FINE MODERN AND VINTAGE SPORTING GUNS
At the Gleneagles Hotel, Perthshire
24th August 2015
Catalogue Now Online
For a preview of the printed catalogue click the image below: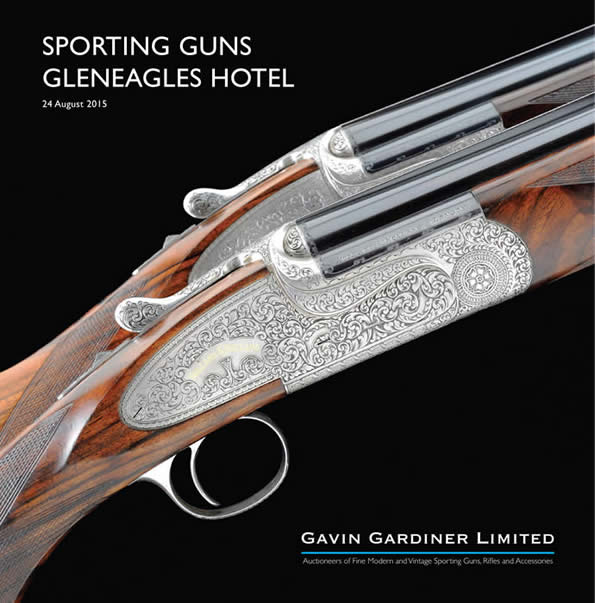 Bore Size List and Absentee Bid Form
On View at The Gleneagles Hotel, Auchterarder, Perthshire
Saturday 22nd August 10am to 5pm
Sunday 23rd August 10am to 5pm
Monday 24th August 10am to 3pm
Auction at 6pm
Preview by appointment at our premises, Hardham Mill, Pulborough, W. Sussex
Tuesday 11th August to Thursday 13th August
Live online bidding with our partner:
Selling Fine English Sporting Guns and Rifles at Auction. Every auction includes a good selection by the classic makers including J. Purdey & Sons, Holland & Holland, Boss & Co, Woodward, William Evans, John Dickson & Son, Westley Richards to name just a few.
Read Gavin's recent Shooting Gazette Feature.
Record prices are frequently achieved, and Gavin Gardiner is delighted to have been instrumental in the sale of the 1983 Holland & Holland Wildfowl and Wader set of six guns for $350,500 at auction in the USA.
Our fully illustrated catalogues include many additional images, many full page, and build to provide unique reference. Catalogues frequently sell out, subscribe today and never miss a sale.
Download the Catalogue Subscription Form now to receive your hard copy.
View our recent Press Releases